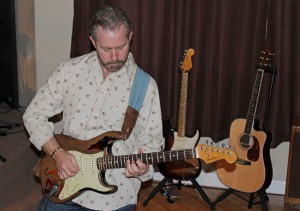 A native of Atascadero, Ca. Brad started playing guitar at the age of 14. He loves all aspects and styles of music. In the mid 70's Brad played in Various Bands throughout the North San Luis Obispo County but upon marriage and starting a Family he took a long hiatus playing from 1980-2005.
In 2006 Brad took up with local musicians from his Church and formed a band called Narrow Road. Narrow Road was a Country Rock Band played area Church Ministry events as well as Prison Ministry events throughout the state of California.
Upon the retirement of the Narrow Road Band. Brad was introduced to Joshua Brewer via Josh's skills as an I.T. Specialist. When Brad discovered that Josh also shared a love for music, they united and jammed a couple times. Afterwards Josh introduced him to his other musical friends Daniel Palmer and Steven Paul Ploog.
After a couple fun jam sessions, it was out of those jam sessions that Days Alone was formed. Days Alone has allowed a creative outlet for Brad's abilities to shine and grow. Brad is the elder member of the group. A devoted husband, father of two young adults and Local Businessman. Brad's approach to Electric Guitar is rooted in Old Rock, R&B and Country.  His favorite guitars are Fender Stratocasters and Telecasters, he uses minimal effects pedals and Loves traditional Tube Amplifiers.